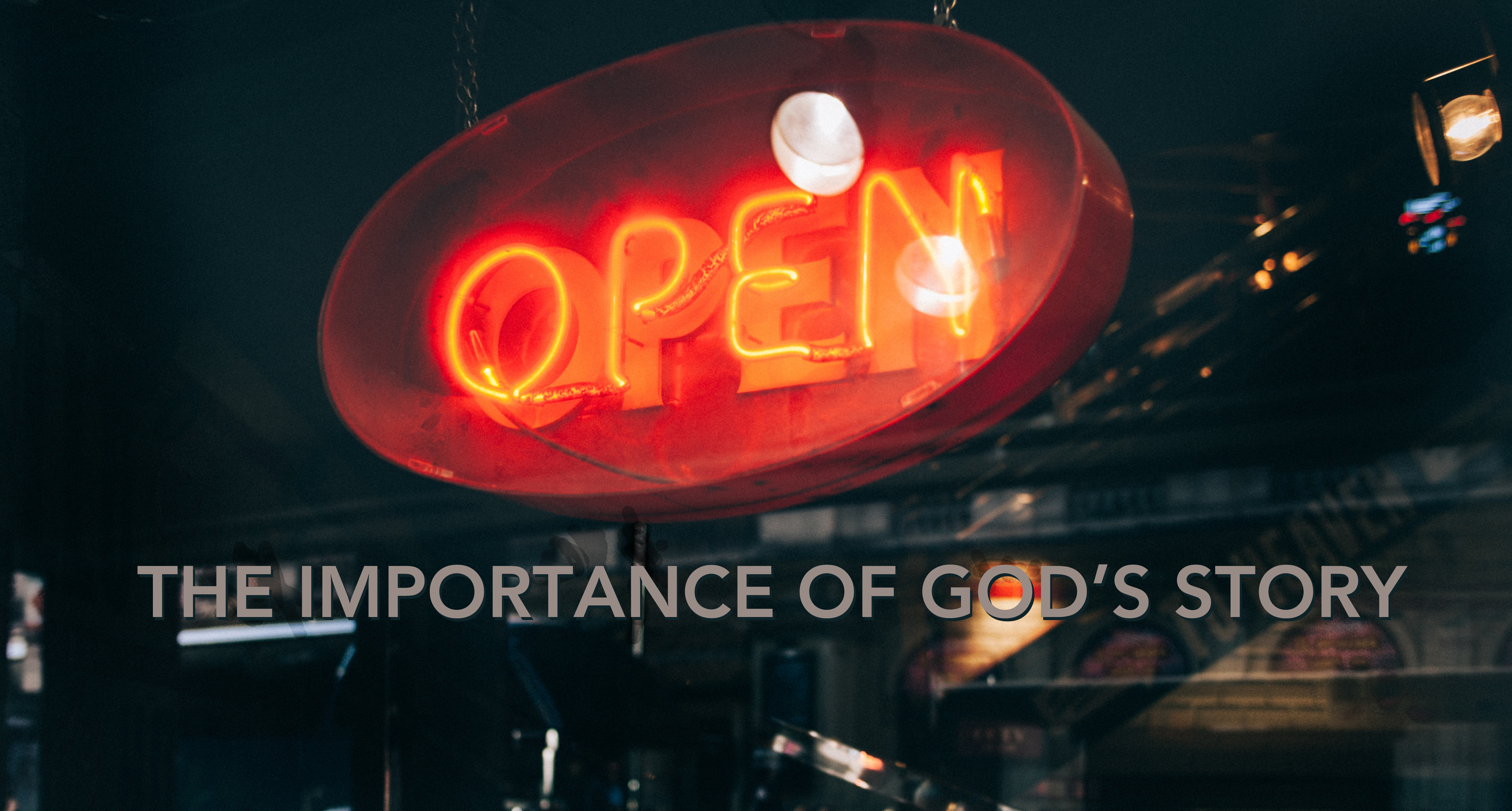 THE IMPORTANCE OF GOD'S STORY
Recently I discovered a new rap artist that I really like. His name is Trip Lee and His fifth album RISE debuted at # 2 on the Billboard Rap Chart. One of his best songs in my opinion is Manolo where he compares God's word to a six-shooter that he never leaves home without. Talking about the Bibles which he keeps on hand, he sings-
"I never leave da crib alone

'Cause I keep one in my car and I got two at home.

…

I got enemies

I can't see 'em all but they lurkin'

I flip that page on 'em

my trigger finger stay workin'

I got plenty ammo; got old and new,

they both testify

My Lord"
This way of describing God's story as a weapon against our spiritual enemies is not new.
From Jeremiah, to the Apostle Paul, to Trip Lee, it is unanimous, in the battles of life, our greatest weapon is God's story.
Listen to what God says to Jeremiah-
"Is not my word like fire declares the LORD, and like a hammer that breaks the rock in pieces?"
And what did Jesus do when he battled temptation?
His weapon of choice was quoting Scripture. His response was always the same
"It is written… It is written…It is written"
This is how we fight our battles and win – with God's word.
The Apostle Paul describes our battle in vivid terms. He tells us that we-
"do not wrestle against flesh and blood, but against the rulers, against the authorities, against the cosmic powers over this present darkness, against the spiritual forces of evil in the heavenly places. Therefore take up the whole armor of God…"
This is not a game for Paul. This is cosmic. And so he tells us what we need for the fight. But strangely enough all of the things he counsels us to take are defensive - the shield, the helmet, the belt the breastplate. All of these are for protection. For defense. Then, finally he gets to the offense! Surprisingly it is only one thing.He says,
"Take the sword of the Spirit, which is the word of God."
In this hand-to-hand battle to the death with our adversary we are given one weapon.
One.
God's word.
It is convicting when we make time for watching our favorite show(s) and for catching the game, but we are "too busy" to read our bibles.
A soldier in the fight, is never too busy to remember his gun.
'It is written, man does not live by bread alone but by every word that comes from the mouth of God'
Friends, don't let your soul run on empty.
Take Action
Download a good Bible app for your phone today, or drop by a bookstore to thumb through different versions and buy your own personal hard copy. Let's join Trip Lee and the other Jesus followers around the world by prioritizing God's word.
Look Up a verse to help you in your battle-
If you battle fear Look Up- Psalm 56:3
If you battle procrastination Look Up - 1 Corinthians 15:10 & Proverbs 14:23
If you battle lust Look Up - Proverbs 6:25-29 & 1 Corinthians 6:19-20
If you battle sadness Look Up - Psalm 28:7 & Psalm 86:4
If you battle loneliness Look Up - Romans 8:31-39
If you battle stress Look Up - Psalm 68:19 & Luke 12:22-32 &
"How does a man keep his way pure? By guarding it according to your word. With my whole heart I seek you; let me not wander from your commandments! I have stored up your word in my heart, that I might not sin against you." Psalm 119:9-11